Snow is so beautiful and can be lots of fun – but after a week or so the novelty wears off – especially in the hills of deepest Mid Wales, where it really does lie 'deep and crisp and even'.  Lots of our trustees are getting cabin fever!!
As long as you have warmth, and food for yourselves and your animals, (and plenty of loo paper!), you might as well make the best of it.  Why not do some snow dyeing?  I won't re-invent the wheel by posting anything other than the briefest tutorial – there are lots already out there in Interwebworld.
When it works, the dyeing process is slowed down and if you are lucky, the pigments 'split' and you get some lovely and unexpected results. Here is a beautiful sample from Beth Brandkamp's blog – and she is generous with her instructions.
Use some PFD fabric (that's prepared-for-dyeing) – you can buy it ready done, but if you have some washing soda, make a strong solution and soak clean fabric for half an hour or more.  Scrunch it, or fold it  and lay it in a container in a way that lets the melt liquid drain away – I use a small Tupperware upside down as a shelf in a large Tupperware and I sit that on more fabric that will dye in a different way. Use fibre reactive dye such as Procion MX.
Grab enough snow to make a layer 3″ – 4″, (alright 7.5cm – 10cm) deep and either:
Sprinkle dry pigment (wear a mask) into the snow and give it a quick mix through
or
Spread the snow on top of the fabric then pour liquid dye over the snow
Now leave it somewhere where it will slowly thaw.  Once the snow has melted, the fabric will need to cure for a day.
My own efforts, in my defense only done to use up some leftover mixed up dye, were dull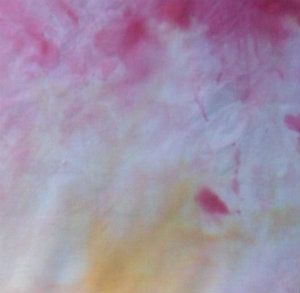 but seeing Beth's I am having another go – let's face it, for the next day or so I am not going anywhere!
Have fun!